30 April 2023
Top of the Mountain Closing Concert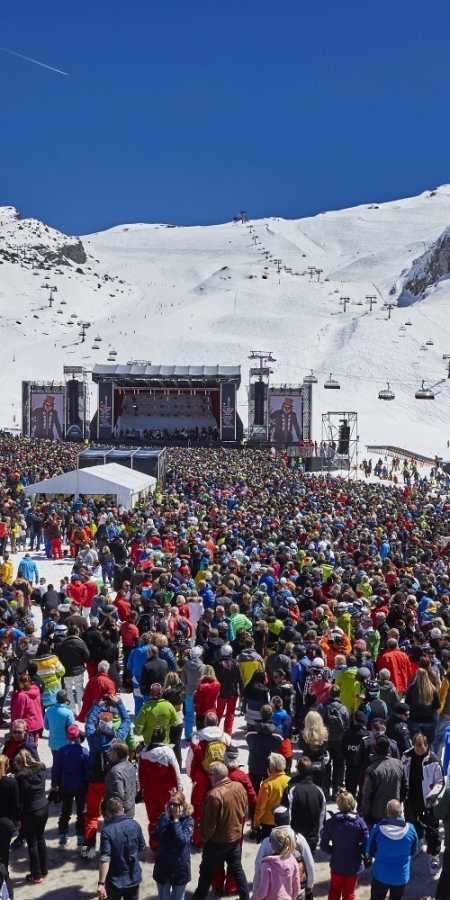 The crowning finale of the 2022/23 ski season.
Top of the Mountain Closing Concert
Artist
tbd
Date
Sunday, 30 April 2023 at 1 pm
Place
Idalp (AUT) in the ski area
Admission | Ticket
More informations on ischgl.com
Ischgl celebrated the end of the season with Kings of Leon
Kings of Leon were the crowning finale of the 2021/22 ski season. Winter sports enthusiasts experienced the US rock band at the legendary «Top of the Mountain Closing Concert» at 2,320 metres on 30 April. 
For the season finale on 30 April 2022, the multi-platinum and Grammy award-winning band Kings of Leon rocked the «Top of the Mountain Closing Concert». The repertoire of the popular US band, who provided an unique and certainly unforgettable concert experience against the backdrop of the snow-covered Silvretta Arena, includes a set consisting of songs from all eight albums. Since their debut in 2003, Kings of Leon have released eight albums. The band has sold over 20 million albums and nearly 40 million singles worldwide. Kings of Leon are known for their rousing live performances and have headlined the world's biggest and most prestigious festivals, including Glastonbury, Coachella, several Lollapaloozas, Roskilde, as well as Rock im Park, Nova Rock and St Gallen, to name a few.