Not even flying is more beautiful
SKYFLY Fimbatal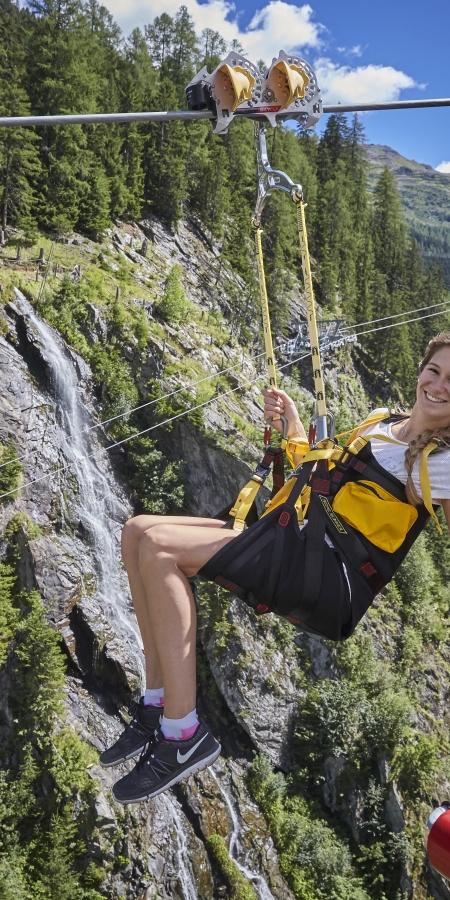 Hang 50 meters above the ground and glide downhill towards Ischgl. From the Silvrettabahn mid station, two parallel cables run via two intermediate stations to the roof terrace of the Pardatschgratbahn. Speeds of up to 85 km/h can be reached on the two-kilometer stretch. In the second section, you fly through the Kitzloch suspension bridge and the Fimbabahn.
| | |
| --- | --- |
| Winter season | closed |
| Summer season Tuesday - Sunday, 1 July to 15 October 2023 | 11 a.m. - 6 p.m.* |
* We recommend the Samnaun guests to start the SKYFLY experience at 2 p.m. at the latest, so that the return journey to Samnaun is guaranteed. Please note the closing time of the chairlifts at 4 p.m. and of the double-decker cable car, respectively, here the last descent is at 5 p.m..
| | |
| --- | --- |
| Adults | 39.- |
| Children and teenagers 8 to 17 years | 25.- |
You can reach the middle station of the Silvrettabahn in about an hour with the mountain railroads from Samnaun: with the double-decker cable car L1 to the Alptrider Sattel, further with the chairlift N6 down to the Alp Trida, then with the Flimsattelbahn N1 to the Viderjoch. The Flimjochbahn B2 takes you up to the Idalp, then take the Silvrettabahn A1 to the middle station, where the start of the Skyfly is.
The following persons are allowed to use the facility:
Body height at least 1.20 m
Minimum age: 8 years
Under 10 years only in company of an adult
Under 14 years only with consent of parent or guardian
Minimum weight: 32 kg
Maximum weight: 125 kg
For further information please visit ischgl.com