18 – 21 April 2024
8th European Formation Skiing Championships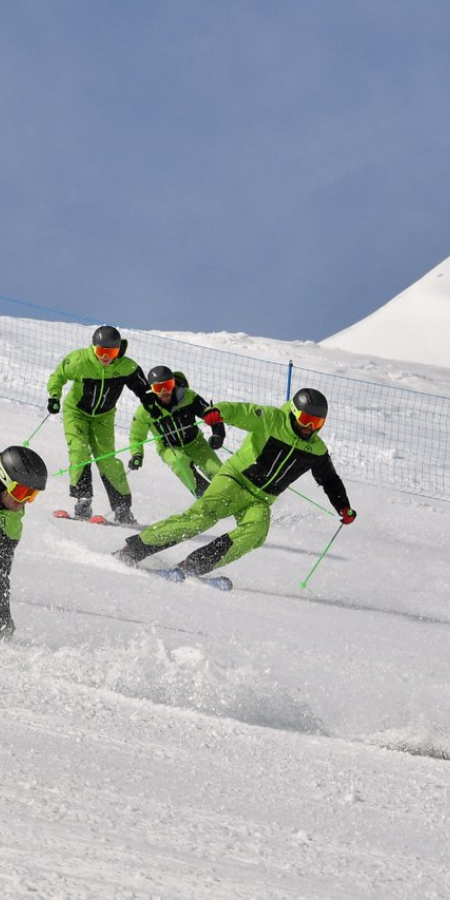 At the 8th European Formation Championships, artists on skis from the European ski schools compete in various competitions. The acrobatics, the right feeling to the ski and the snow conditions make it a «tactful dance in the snow».
Snow sports enthusiastic teams from all over Europe are invited to prove their skills on skis in the Silvretta Arena Samnaun/Ischgl and compete with the best in their field. Attractive prize money awaits the winners.
The compulsory figure with video for the 8th European Formation Championships 2024 will follow at the beginning of the winter season 2023/24.
Video from the 7th European Formation Championship
| Ranks | Men/Mixed | Women | Masters | Children/Youth |
| --- | --- | --- | --- | --- |
| 1st rank | CHF 1000 | CHF 1000 | CHF 1000 | CHF 600 |
| 2nd rank | CHF 700 | CHF 700 | CHF 700 | CHF 400 |
| 3rd rank | CHF 500 | CHF 500 | CHF 500 | CHF 300 |
| | | | |
| --- | --- | --- | --- |
| Ranks | 1st rank | 2nd rank | 3rd rank |
| Men/Mixed | CHF 1000 | CHF 700 | CHF 500 |
| Women | CHF 1000 | CHF 700 | CHF 500 |
| Masters | CHF 1000 | CHF 700 | CHF 500 |
| Children/Youth | CHF 600 | CHF 400 | CHF 300 |