Duty-free shopping experience Samnaun
Samnaun is the only duty-free area in Switzerland and probably the highest High Street in Europe.
Nützliche Downloads
Einkaufs- und Restaurantführer
Sind Sie auf der Suche nach einer neuen Uhr? Oder hätten Sie gerne kubanische Zigarren? In Samnaun werden Sie bestimmt fündig. Rund 40 Shops bieten eine Vielzahl an Markenartikel zu attraktiven Preisen an.
Duty-free paradise since 1892
Until 1912 Samnaun was only accessible via the only access road via Austria. This led to the fact that the Samnauner traded goods with the neighbouring Tyrol. This changed abruptly with the introduction of customs in 1848. Now all goods which were transported across the border had to be cleared through customs. The Samnauner defended themselves against this - with success. The Federal Council decided in 1892 that Samnaun would be duty-free. This status was also retained on Swiss territory in 1912 with the opening of the Samnaun road from Martina to Samnaun; the village in Graubünden still enjoys this status today - as the only region in Switzerland.
Travelling by car
Did you come to Samnaun by car? This is worth twice as much for you: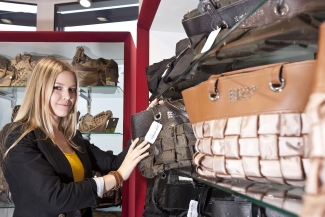 Vielleicht das höchste Zollamt Europas.
Auf Skiern Grenzen überschreiten 
Mitten durch die Silvretta Ski-Arena Samnaun/Ischgl verläuft die Landesgrenze zwischen der Schweiz und Österreich. Direkt an der Piste auf 2756 m ü. M. befindet sich das Zollamt – es ist damit wohl das höchstgelegene Zollamt Europas. Über die beiden Duty-free-Runs, so heissen in Samnaun die Talabfahrten, erreicht man auf direktem Weg die rund 40 zollfreien Shops im Samnauntal. Bis zu 5000 Wintersportler, die von Ischgl aus die Talabfahrt nach Samnaun machen, verzeichnet das Zollfreiparadies Samnaun in der Winter-Hochsaison täglich. Wer die Zollbestimmungen einhält, muss die Kontrolle von Zoll-Einsatzleiter Patrick Wolf und Team nicht fürchten.  
«Schmuggeln» kann man im Skigebiet auch spielerisch und vollkommen legal: Quer durch das ganze Skigebiet gibt es drei unterschiedliche «Schmugglerrunden» – so heisst das Tracking-Gewinnspiel mit attraktiven Preisen.