Duty-free shopping experience Samnaun
Top brands at attractive prices - that's what awaits you in the Alpine brand paradise of Samnaun. Probably the highest shopping mall in Europe, it offers something for every taste, from jewelry to edibles to tobacco. Thanks to the duty-free zone, best prices are guaranteed.
Duty-free paradise since 1892
Until 1912 Samnaun was only accessible via the only access road via Austria. This led to the fact that the Samnauner traded goods with the neighbouring Tyrol. This changed abruptly with the introduction of customs in 1848. Now all goods which were transported across the border had to be cleared through customs. The Samnauner defended themselves against this - with success. The Federal Council decided in 1892 that Samnaun would be duty-free. This status was also retained on Swiss territory in 1912 with the opening of the Samnaun road from Martina to Samnaun; the village in Graubünden still enjoys this status today - as the only region in Switzerland.
Travelling by car
Did you come to Samnaun by car? This is worth twice as much for you: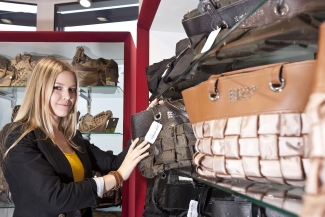 Perhaps the highest customs office in Europe.
Crossing borders on skis
The border between Switzerland and Austria runs right through the middle of the Silvretta Ski Arena Samnaun/Ischgl. The customs office is located directly on the slopes at 2756 meters above sea level - making it probably the highest customs office in Europe. Via the two duty-free runs, as the valley runs are called in Samnaun, one reaches the approximately 40 duty-free stores in the Samnaun valley on a direct route. The duty-free paradise Samnaun records up to 5,000 winter sports enthusiasts who make the valley descent from Ischgl to Samnaun every day during the winter high season. Those who comply with the customs regulations do not have to fear the control of customs operations manager Patrick Wolf and team.  
«Smuggling» can also be done playfully and completely legally in the ski area: There are three different «smuggler rounds» across the entire ski area - this is the name of the tracking competition with attractive prizes.