Luggage transport to your accommodation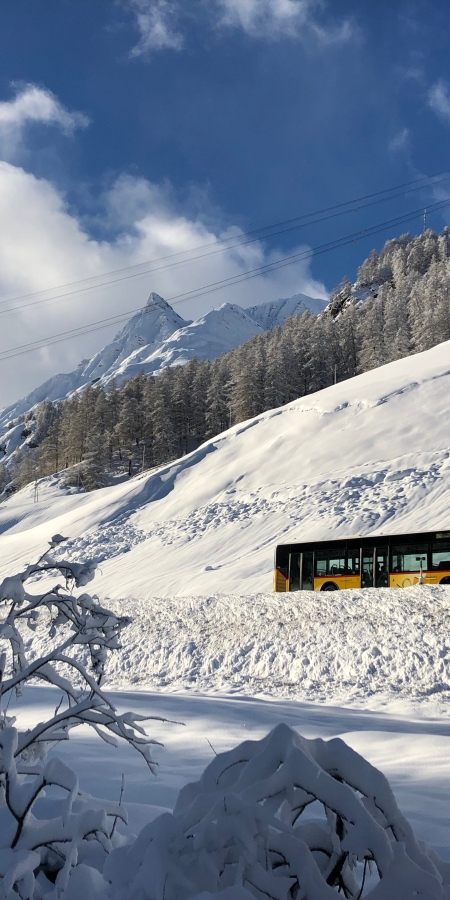 Ski holidays by public transport have never been so easy: thanks to the luggage special, you can collect your luggage from home and have it delivered directly to your holiday accommodation.
The Luggage Special
Luggage transport from home to your accommodation
When travelling by public transport, your luggage will be collected from your home and delivered to your holiday flat or hotel. This is possible thanks to the cooperation between the Swiss public transport companies, the Engadin Samnaun Val Müstair holiday region and local businesses. The offer is convenient and can be booked online at any time.
How it works
Booking online no later than four days before your first day of holiday (= two days before luggage collection) by 8.00 p.m. at this link.
The luggage is usually collected two days before your first day of holiday. You can book a pick-up period between 08.00 and 20.00 hrs. This period will be limited to three hours the day before and you will be notified.
Delivery: Two days after we have collected your luggage, you can pick it up when you move into your room at the hotel or holiday flat.
On Sundays as well as on public holidays (Christmas Day, St. Stephen's Day, New Year's Day, 2 January, Good Friday, Easter Monday, Ascension Day, Whit Monday, 1 August) there is no transport. No collection and no delivery is possible on these days. If a Sunday or a public holiday lies between collection and delivery, the delivery period is extended by one day.
Costs
You benefit from attractive all-inclusive prices:
1 to 4 pieces of luggage per way (arrival or return): CHF 44.00
5 to 8 pieces of luggage: CHF 66.00
9 to 16 pieces of luggage: CHF 99.00
Notes
Bicycles are excluded from the luggage special and are not delivered to the accommodation.
To be able to check in your luggage, you must have a valid ticket for the entire journey or one of the following tickets: GA, Verbund-Abo, Strecken-Abo, seven25-Abo or FVP (Fahrvergünstigung Personal).
Important: For luggage from Samnaun to your home, the customs declaration for unaccompanied luggage must be completed and signed on the luggage per person/family. No allowances (goods) may be carried in unaccompanied baggage.
Booking