Lovers of pleasures
Sommelier Christian Heis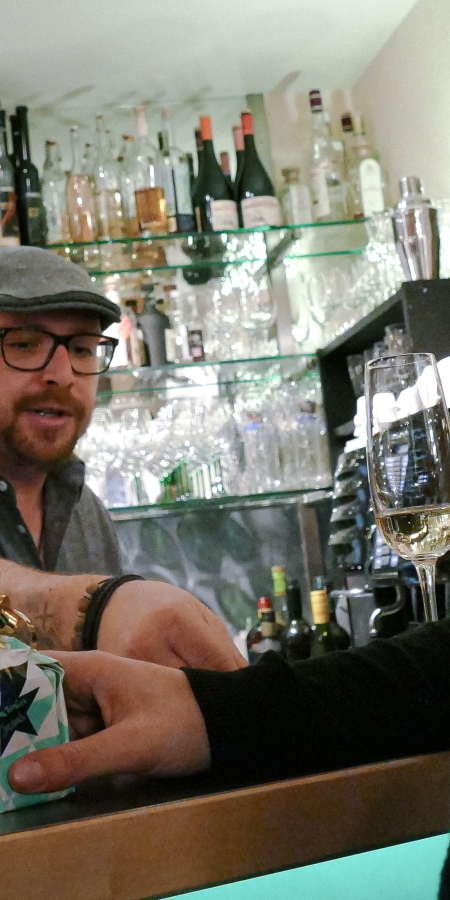 In winter on touring skis. In summer on the bike. Whether uphill or downhill. The nature lover and whisky enthusiast Christian Heis lived his life to the fullest. Without cutting back! How a brain tumor diagnosis changed him, what meaning lay behind his life motto "Give your soul mountains", what home meant to him and why sommelier was more than just a job title for him, Christian Heis gave us answers to precisely these questions. In the summer of 2022, Christian lost his battle against a brain tumor. We look back with respect on the life of an extraordinary Samnauner.
From Cyrill Suter
The story behind the "long story
If you asked Christian Heis, a certified sommelier, how he came to his passion for exclusive drinks from all over the world, he would smile and say, "It's a long story." A story marked by low points and high points.
After completing his compulsory schooling, he served an apprenticeship in a Samnaun sports store as a sporting goods salesman. Later he worked in various industries, selling watches and jewelry or working in construction for a change. One day he was asked by his boss at the time if he would be interested in joining Astro. The owner was looking for someone to run the business as operations manager. There he was - in his mid-twenties and somewhat at a loss as to what to expect. For years, the Astro had been selling spirits, tobacco, perfume - in other words, the classic duty-free assortment. Christian, however, felt it was important not just to fill racks. As a very inquisitive person, he was interested in what he was selling. He wanted to know why a drink tastes the way it does. "I then fell in love with the subject of whisky via grappa, rum, cognac". He then expanded the whisky range with the help of the boss. From the time he took over the Astro, Christian endeavored day after day to take his guests into the world of fine beverages. His vocation challenged him professionally as well as privately, which is why Christian cherished his time in nature. He was often out in nature with his partner or friends, whether for a sporting challenge or for recreation.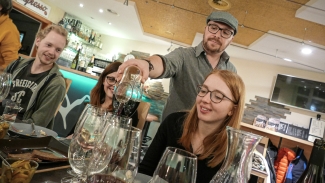 «Give your soul mountains»
Christian has always been close to nature and did a lot of sports at a young age. Rafting, biking, climbing - being outdoors was part of everyday life for the Heis family. The need to escape into nature was probably in Christian's cradle. "I can't be quiet for long or I get uncomfortable. There always has to be something going on." He loved traveling to Canada, Asia or Europe and enjoyed his time in Samnaun just as much. It was a privilege for him to have grown up in Samnaun. The mountains are on your doorstep. In addition, the Silvretta Arena Samnaun/Ischgl offers a wide range of activities in every season. In winter with skiing and in summer with great and varied trails with the mountain bike. Together with other Samnaun people, he campaigned for more bike trails in Samnaun. They wanted to increase the offer, realize new projects, better develop existing trails and thus make Samnaun more attractive for guests in summer as well and bring young people here.
"Samnaun remains Samnaun - forever. I grew up here and want to stay here. For me, home is not a place, but a feeling. A feeling of security, memories and well-being. And I also have this feeling here in Samnaun: the mountains, nature, in childhood with grandpa on the hunt, with parents on the skis." The mountains were so important to him that he even had this tattooed under his skin: "Give your soul mountains". That was his life motto. However, this had not only to do with his hobbies, but more with his moving life story, which shaped him in the last years of his life and gave the motto a profound meaning.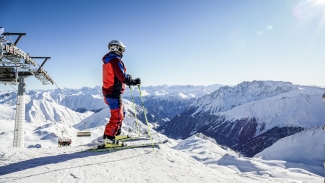 Bad news already at a young age
"I received a cancer diagnosis in 2014," Christian told us. He led a healthy life: Five times a week he did sports, almost no alcohol, never smoked, balanced and healthy diet. The shock was all the greater when he suddenly collapsed at work while clearing a table. The diagnosis: brain tumor.
The cancer threw him completely off course and turned his life around 180 degrees. Just a month before, he had participated in the Engadine Bike Marathon. Christian felt no signs. Suddenly, after a ten-hour open skull surgery, he was lying in a hospital bed completely powerless. A tough year with countless chemo therapies followed. It is a strange feeling not to be able to do anything by himself anymore. He spent several hundred hours by car with helpful colleagues and friends to drive from Samnaun to Chur for the radiation treatments. In precisely this difficult time, friends and family were all the more important. You realize who really stands by you.
You learn for yourself and realize what is essential for life. You appreciate being healthy again. And yet he always told himself: "Have a good wine, a delicious meal. Enjoy life and don't deny yourself!" He was all the more grateful for the beautiful, hopeful years after therapy. "Maybe that's what makes me different from others, that economic success is not the only important thing for me."
After eight months of illness, Christian was mentally as well as physically battered. He had 25 kg more on his ribs because of the chemo therapies and was left with nothing. But just one month later, the then boss of Astro Whisky & More approached him and said, "When you're healthy again and feel ready, you can take over the business." At that time, it was a great motivation and honor for him. He restructured his entire life on it. He wanted to do something with his life.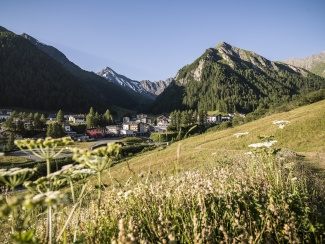 The path to becoming a certified sommelier
He wanted a self-affirmation of what he could achieve. He had long had a passion for whiskey and exotic drinks from around the world, but since his past life story, he made it his calling and began training as a sommelier. But rather, sommelier was a way of life for Christian. It was not simply hours of work: It was important to the certified sommelier that each of his guests turned around again and thought, "It was nice." No matter if he was just there for a coffee or bought a more expensive wine.
Christian was on the road a lot, visiting winemakers, attending wine fairs or blind tastings.  In the process, he always discovered exciting drinks that he took back to Samnaun. He relied on good advice and wanted to pass on his knowledge to the guests so that they realized what kind of product they were taking home. The nature lover impressed with his assortment and professional advice. One should not save in the wrong place, but go home with the right drop. Rather, he wanted to sell emotion and the experience behind it.  As a graduate sommelier, Christian Heis did not specialize in one particular drink. Rather, a graduate sommelier knows about the production methods of the beverages, the compositions of the grape varieties, the soils, quasi the "living conditions" of the plant; for example, whether the plant is located near the sea and what effects these parameters have on the beverage. At tastings with him, guests could train their palates, classically with whisky or wine, but also with gin, rum and fine spirits.
Christian was the third sake sommelier in Switzerland. Sake is a Japanese, wine-like brewed drink that is not yet very well known in Switzerland. But for Christian, sake was a highly interesting drink.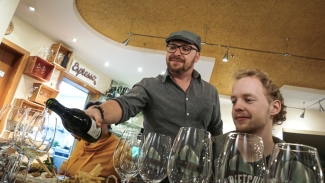 The search for the most suitable drink

Food pairing is another great passion of Christian. He likes the challenge of serving the right drink with different dishes, with the goal of positively surprising the guests. "Come as a guest and leave as a friend" is both a guiding principle and a motto for Christian. Guests can experience this in his store He has also already taken part in the Samnaun Gipfelgenuss.
This will also take place this year. Chefs from Samnaun restaurants and specialty producers present their delicacies. In the middle of the Samnaun mountain world on the Alp Trider Sattel, guests can look over the chefs' shoulders as they work and taste and enjoy the specialties.