31. März 2024
Top of the Mountain Easter Concert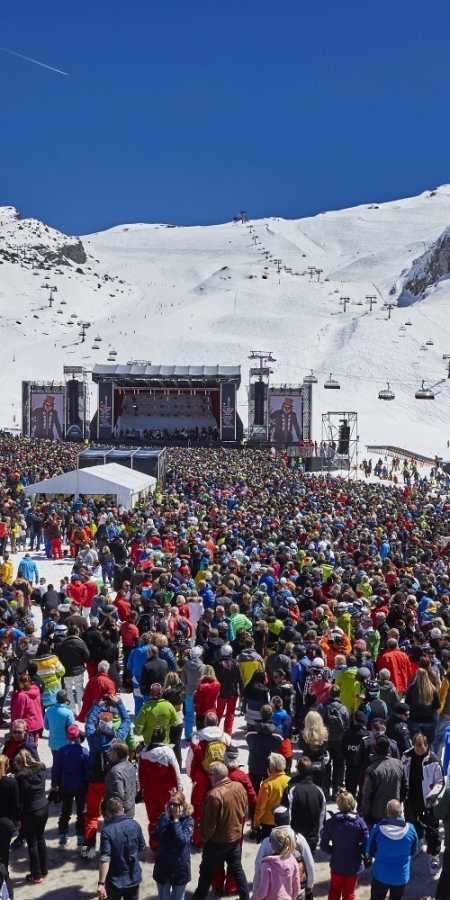 The Easter Concert on the Idalp in the Silvretta Arena Ischgl Samnaun.
Artist
to be announced
Date
Sunday, 31 March 2024 at 1 p.m.
Place
Idalp (AUT) in the ski area
Admission | Ticket
More information on the concert at ischgl.com
Ischgl celebrated Easter with SIDO
On 9 April 2023, Sido made his Ischgl debut on the legendary Ischgl Stage. There, the king of German rap provided the atmosphere from 1 p.m. onwards. In his luggage were: His well-known hits such as "Astronaut", "Bilder im Kopf" and "Tausend Tattoos".
Sido: The King of German Rap
With his label Aggro Berlin, Sido shook up the German hip-hop scene at the turn of the millennium and created a completely new genre: German ghetto rap. In the scene he was often dubbed because of his mask (silver skull) and became the first popstar of the scene. Songs like "Mein Block" (2004) and "Ein Teil von mir" (2006) brought the commercial breakthrough. Today, he produces, acts and looks back on eight solo albums, an "MTV Unplugged" concert, two feature films, two Echos as well as gold and platinum. No reason for the East Berlin native to lean back: his new album "Paul" will be released on 9 December 2022. It never gets boring with Sido; he is known for explosive stage performances and the best atmosphere. On Easter Sunday, the rapper will make his Ischgl debut on the legendary Ischgl Stage on the Idalp and present his latest and best songs in the ski resort.