A big fan of the Silvretta Ski Arena Samnaun/Ischgl
Ski world champion Martin Hangl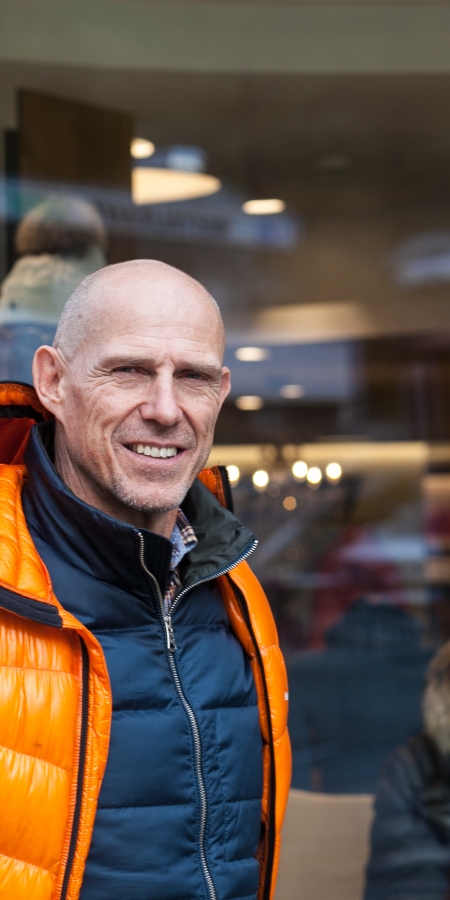 The 1989 Vail Super-G World Champion is still an avid skier. He has skied on slopes on four continents. In his view, the Silvretta Ski Arena Samnaun Ischgl is one of the best 3 ski resorts in the world.
From Bettina Notter
During the winter season, Martin is very busy with his business. To switch off and recharge his batteries, he takes a few hours 2-3 times a week and devotes himself to his great passion, skiing, together with his wife Lies. He can often be found on the slopes with regular customers or friends. Martin loves skiing in a group with like-minded people.
Martin is enthusiastic about the Silvretta Ski Arena, he knows the facts down to the last detail and goes into raptures when he shows guests the dimensions of the ski area:
45 state-of-the-art mountain railroads and lifts 
239 kilometers of perfectly groomed slopes
Snow guaranteed from November until the beginning of May thanks to the altitude of the ski area up to almost 3000 m above sea level and modern snow-making facilities
downhill runs up to 11 km long
85 slopes and runs, of which 24% are blue, 47% red and 29% black slopes 
a skiing area for beginners, pleasure skiers and excellent skiers
Martin's tip: The Smugglers' Round GOLD; skiers explore the border area in the footsteps of smugglers. The round is quite demanding with 37.2 kilometers of slopes and 6870 meters of altitude.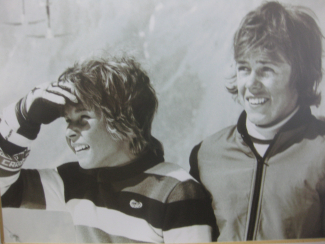 Int. OVO Grand Prix Sils Maria 1974 
Martin Hangl on the podium with Marc Girardelli, the two are still close friends today.
You need passion, a willingness to perform and a sporty, family environment.
Martin Hangl inherited his enthusiasm for skiing and the corresponding talent from his mother Caroline Hangl-Prinz. She was the first woman to train as a patented ski instructor in Samnaun.
As a child, Martin Hangl spent every free minute with his local skiing colleagues on the Clüs lift and the Musella lift. There he picked up the technical skills for his later skiing career.
Even though the talent for skiing runs in the family, Martin Hangl never had the dream or the goal of competing in the World Cup as a child and teenager. Competing with like-minded people and the friendships in the children's and youth squads were the greatest things for him. He is still in close contact with many of his racing colleagues today.
Through my work in the sports stores in Samnaun and Ischgl, winter sports and skiing have remained a central point in my life to this day.
With start number 1, I managed an aggressive, courageous and flawless drive. If you stay in the lead with start number 1, it's a long wait and tremble until all the favorites are at the finish.
The joy in the family and among the village population was enormous. The ski destination of Samnaun had its first world champion.
From 1981 to 1991 Martin Hangl skied in all disciplines in the World Cup. He took part in 4 world championships and one Olympics. This resulted in 8 podium places in the World Cup, 3 of which were victories: 2 Super-G and 1 Giant Slalom.
After serious injuries and several operations, Martin Hangl retired from ski racing in 1991.
The transition to professional life

For Martin Hangl, it was always clear that he would return to Samnaun after retiring from top-level sport and join the family business.
Joining the family business was very challenging. Unfortunately, I found that I lacked the training, knowledge and understanding of entrepreneurship and management. I had to acquire industry and management knowledge above all. I benefited from my perseverance and endurance, my passion and commitment from top-level sports.
In 1991 he graduated as a ski instructor and then trained as a ski school manager. In 1993 he took over the management of Hangl's Sport und Mode. In 1996 the Hangl siblings opened two sports and fashion stores in Ischgl, for which Martin Hangl is jointly responsible. In 2002, the Hangl family founded the 1st Swiss Ski and Snowboard School. Martin Hangl has been in charge of the ski school ever since.
Enthusiasm for the winter destination Samnaun
Martin Hangl can look back with pleasure on 11 years of board work at Samnaun Tourism. At the same time Martin Hangl was also an OC member of various winter and summer events, which had the goal of generating overnight stays in the off-peak periods and making the destination Samnaun internationally known.
Martin Hangl was among others significantly involved in the following events:
Swiss Snow Happening - Swiss Championships of Ski Instructors 2013.
WASC - World Airline Championships 2015
ISIA Ski Instructors World Championships 2017
Mountain Guide World Championships 2018
annual European Formation Skiing Championships since 2015
annual International Silvretta Pupils Cup since 2003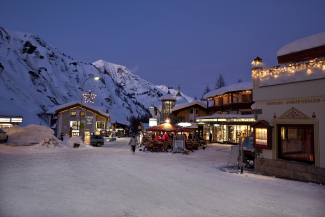 Samnaun Winter Fairy Tale

Mystical winter atmospheres have enchanted Martin Hangl since his childhood.
He goes into raptures when he describes the drive from the still autumnal Engadin to wintry Samnaun. Within a very short time, one climbs 900 meters in altitude over the narrow and winding mountain road and reaches the deep wintry Samnaun valley.
The Samnaun snow world touches his soul. Mountains and trees are covered in snow, and in the muted winter landscape we hear only the crunch of our own footsteps in the snow. Technology and speed have changed, but the mountains remain mountains, the mountain people remain down-to-earth.
Snowy landscapes enchant us with magical moments and attract many people to the mountains not only for snow sports, but for simply being there.
Nothing stands in the way of the Samnaun winter wonderland experience.
Martin Hangl today

Together with four siblings, Martin Hangl is the owner of various companies in Samnaun and Ischgl (AT). He is the managing director of Hangl's Sport und Mode in Samnaun and Ischgl and the 1st Swiss Ski and Snowboard School. With his wife Lies he has three grown-up daughters, Seraina, Patricia and Sarah. The compatibility of partnership, family, career, friendships and hobbies are very important to him.
I have been together with my wife Lies for 36 years and married for 28 years. We are a well-functioning team in all areas, she is my very best friend.