Building trails with the precision of a jeweller
Christian Hangl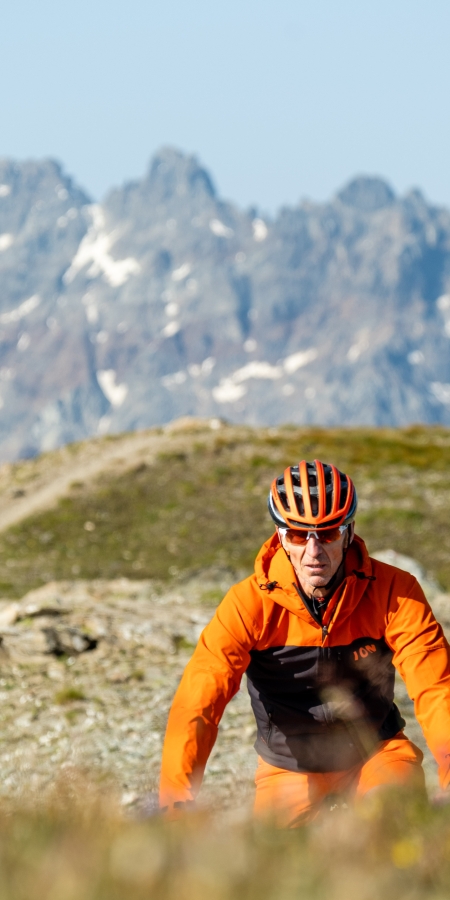 Christian Hangl is a versatile person who is full of ideas on how to make Samnaun even more attractive. He is committed to a wide range of sports and builds bike trails himself. His main occupation is jeweller and he runs two watch and jewellery shops.
Christian Hangl is a sportsman through and through. He loves the mountains and exercise in nature. In summer he likes to go climbing and mountain biking a lot. «It is important for me to be fit and to stay fit. Only then do I feel good in my body. Besides, the best ideas always come to me while I'm doing sports,» he says.
Christian likes to pedal up metres in altitude on his bike, but also to ride technical trails. Here he is riding near the Greitspitz (2870 m) on the border ridge between Switzerland and Austria.
«A brilliant trail. We have many possibilities here in Samnaun and a sensational mountain panorama. But we have to diversify our bike offer and offer variety to the guests,» says the sportsman and businessman.
It is important to him that the beautiful nature of the Samnaun Valley is preserved. «We have to link sport, nature and tourism,» he is convinced. «Guests should come to Samnaun because of Samnaun and not just for the duty-free shopping,» says the manager of two jewellery and watch shops.
Trail builder, jeweller, visionary
Christian Hangl is a visionary and doer. On his initiative, for example, the cross-country ski trail or the climbing and bouldering park on Alp Trida were created in Samnaun. And he is also actively involved in the bike master plan, not only with ideas and concepts, but also as a trail builder.
In the summer of 2021, together with Martin Valsecchi, he converted a poorly passable path into a beautiful and flowing trail. The new bike trail, which is also a hiking trail, is located between Salaaser Kopf and Zeblasjoch at an altitude of around 2500 metres.
We need to combine sport, nature and tourism.
Christian Hangl
The jeweller himself picked up the hoe, shovel and tamping machine. High-quality and precise work was very important to him, as were details such as beautifully placed stone slabs along the path. The result is a true jewel of a trail.
The new trail is not only fun to ride, but also connects already existing trails and bike routes: On the one hand, it completes a long single trail loop that starts on the 2730-metre-high Viderjoch (accessible by train). «A real highlight,» says the trail builder.
Bike connection to the Lower Engadine
On the other hand, thanks to the new trail section, the Fimberpass is much easier to reach. Now you can save yourself the steep climb from Samnaun village and instead start from the Alp Trider Sattel, via Salaas or Viderjoch to these wonderful single trails. A bikeable route over the Fimberpass is particularly important for Christian, as it connects Samnaun with the Scuol region. «The tour is long, but beautiful. Now it is also possible for less technically experienced bikers and with e-bikes.»
The new trail is also well rideable with an e-bike
Christian Hangl
Christian is very keen to connect Samnaun with its neighbouring valleys. «We need to open up our alpine passes and trails for bikers and e-bikers, not only in the direction of Scuol, but also to Ischgl and Serfaus. In this way we can attract new guests to Samnaun, because around us are destinations where many bikers move around.»
The well-being of his homeland is close to Christian's heart. He grew up in Samnaun, together with five brothers and a sister – the well-known Hangl extended family, which has significantly shaped Samnaun and its tourism development and continues to do so.
Family AG with 160 employees
The family-run Hangl AG employs around 160 people and is one of the largest employers in the valley. It runs hotels and restaurants, various shops and a ski school. Christian, the third-born, is responsible for the two jewellery and watch shops in Samnaun as well as a small jewellery boutique in Ischgl.
Christian is also a ski world champion
The Hangl name also stands for skiing expertise. And not only because Martin Hangl – Christian's older brother – became world champion. All the Hangls were and are excellent skiers. Christian also skied in the European Cup as a youngster. At 19, however, he ended his career and trained as a ski instructor and expert. He only skied against other ski instructors – but very successfully: in 1989 he became ski instructor world champion in Andorra.
In addition to skiing, we also need other mainstays
Christian Hangl
For decades, Christian was involved as president of the Samnaun Ski Club and was one of the initiators of the Silvretta Pupils Cup. His three children, Jacqueline, Célina and Jan, were also ski racers – his two girls were close to the top of the world before the injury witch struck.
«Skiing is Samnaun's central pillar, but we need others, especially in summer,» says Christian. That's why he is committed to a tourism-diverse offer. «Guests come to Samnaun because they want to move around here in beautiful and intact nature – even more so in the future, I am firmly convinced of that.»
Soon a pump track in the village?
He does not run out of ideas for new offers quickly. For example, he is fighting for a sports centre with a pump track, skills centre and other facilities, and at the same time he would like to renaturalise the village stream.
As a passionate outdoor sportsman, Christian has seen many mountain regions in this world. «When I'm on the road, I consciously put on my guest glasses and ask myself why someone spends their holidays here and why not in Samnaun.» In this way he is inspired to constantly develop his beloved home valley. We can be curious about what he will realise next.
Christian Hangl is not only a doer, but also a visionary: one of his dreams is a bike trail from the Zeblasjoch to Samnaun village; he also already has ideas for the route. Another vision is a sports centre near Clis with various sporting offers and attractions for winter and summer.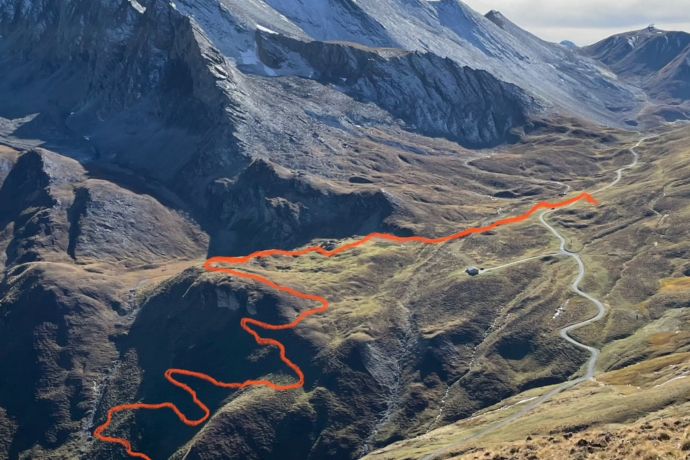 3 Bilder anzeigen