In love with Samnaun
Daniela Peer-Friedli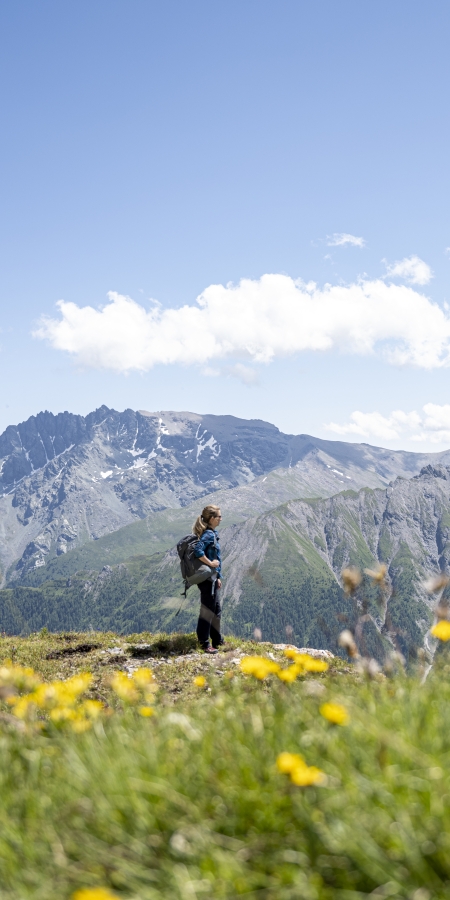 Having grown up in the Bernese Oberland, Daniela, a trained druggist, found her personal happiness in Samnaun. To make her dreams come true, the proactive woman and young mother not only lends a hand in her own business and in her husband's ski school, but also gets her hands dirty on the construction site.
After a brief detour to Geneva, it was clear to Daniela that her career path would take her back to the mountains, preferably directly to a ski resort. And at the latest after the après-ski evening following her job interview, the decision was made: in 2007, the then 23-year-old started work in the Samnaun drugstore. Just two years later, the opportunity arose to combine her passion for natural healing products with her second passion, winter sports: From now on, she worked part-time as a ski and snowboard instructor. It is this variety that Daniela appreciates so much about her life in Samnaun.  
The fact that Daniela is now co-owner of the drugstore in Samnaun is due more to an unfortunate circumstance than to long planning. When the doctor at the time left the valley, it came as a shock to Daniela and her colleague. After investing a lot of heart and soul in the positioning of the associated drugstore over the years, they did not want to simply give this up. So the two decided to take the reins themselves from autumn 2019 and continue to run the business on their own. In winter, she still enjoys working at her husband's ski and snowboard school.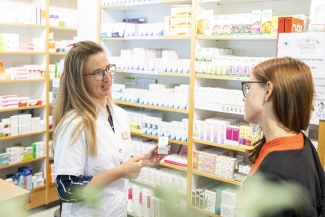 When the druggist talks about the healing powers of nature, her eyes begin to sparkle. No wonder that especially regular guests of Samnaun combine their vacations with a visit to the drugstore. Daniela takes time to respond individually to the guests. And they in turn have time during their stay to devote themselves to their personal well-being. The advice, the wide range of own products with local ingredients and the large variety of natural remedies are the trump cards that especially customers from abroad appreciate.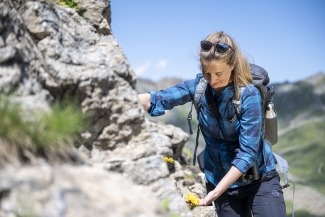 No matter if summer or winter: Daniela is a nature lover! So in winter, whenever possible, she takes her turns on the seemingly endless slopes of the international ski arena Samnaun/Ischgl. Even as a Bernese Oberlander, she has to admit: the local ski area is simply unbeatable!
Im Sommer interessiert sich die Drogistin vor allem für die Alpenflora – eine Blumenpracht, die es in dieser Form kaum noch gibt. Doch nicht nur das Auge ist erfreut: Wenn man die Eigenheiten der Pflanzen kennt, weiss man auch, wie diese eingesetzt werden können. Arnika beispielsweise ist eine widerstandsfähige Blume, die in kargen Gegenden wächst. Entsprechend kann man sie zur Linderung von Schmerz, bei Stürzen und Verletzungen, einsetzen.  
After Samnaun had taken her fancy from the start, a few more years went by before Daniela also met the love of her life here in the easternmost tip of Switzerland. Together they enjoyed the unbound interplay between the winter season in Samnaun and travel around the world. While her husband Dave spent several summers in the New Zealand winter, the young Bernese woman was always drawn back to the Bernese Oberland in the early days, where she even spent four summers working as a painter in construction. Today, the couple consciously enjoys the benefits of Switzerland and instead of faraway countries, they explore their homeland together with their son.
Text: Martina Hollenstein Stadler. Video: OnAir. Bilder: Mayk Wendt.