11 – 13 August 2023
Discgolf Swisstour - Samnaun Mountain Challenge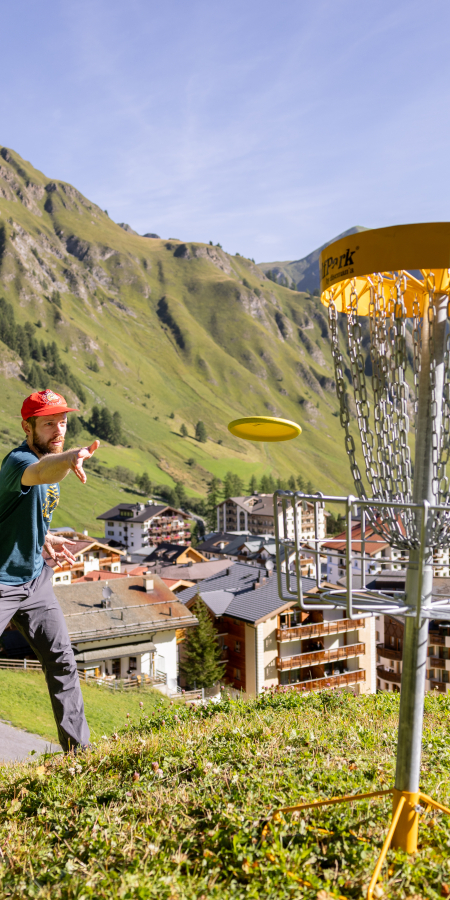 Samnaun welcomed this year's Discgolf Swisstour. The disc golf players played a course in Samnaun village, which leads through large parts of the forest.
Swisstour 100 Event / PDGA C-Tier
Format
Maximum 72 spots 
3 rounds of 18 holes each | Shotgun start
A temporary course will be set up for the tournament.
The latest PDGA rules of 2023 apply.
Pro Open
Pro Master 40+
Pro Master 50+
Pro Master 60+
Pro Open Women
Pro Master Women 40+
Junior 

≤ 18
A category will be run with a minimum of 3 players per category (deadline is August 9th).
In the event of a tie, a draw will be held to determine the winner of the category.
A play-off starts on lane 1 and is played until the tie is broken.
Doubles
Divisions: Open and Mixed 
5 CHF/€ per team
Best Shot
100 % payout to top 3 teams
more information to follow
Putting Competition
following the 2nd round on Saturday 12 August
2 CHF/€
100 % Payout
more information to follow
Integrated in the competition:
CTP: Closest to the Pin
ACE Pool
Optional ACE Pot CHF/EUR 5. As this ist the first time the tournament has been held, there is no Ace Pool.
Prize money
Price money will be awarded to the top 30% of each category (PDGA distribution key). The amount of prize money depends on the number of participants in each category.
Players Package
Local specialities, drink, little surprise.
Payment details
Entry fee and optional ace pot
Payment of tournament fees stating: Samnaun Mountain Challenge, surname, first name, PDGA number.
Payment is due 14 days after registration.
Bank transfer:
CH80 0077 4010 0930 4680 0
in favour of:
Tourismus Eng. Scuol Samnaun
7550 Scuol
oder by Twint
For Twint payment please send an email to info@samnaun.ch with the following information: Samnaun Mountain Challenge, name, first name, PDGA number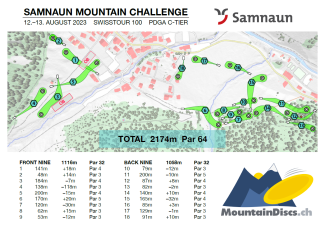 TD – Michael Sutter #152830
Disc Golf Engiadina Club | +41 78 612 59 11 | info@discgolfengiadina.ch 
Co-TD – Martin Jenny #8446 (official)
Merry Chains Disc Golf Club | +41 79 835 03 09 | info@merrychains.ch
Co-TD – Bernhard Aeschbacher
b.aeschbacher@samnaun.ch