«Mountain biking gave me my life back»
Uphill-Biker Patrick Heis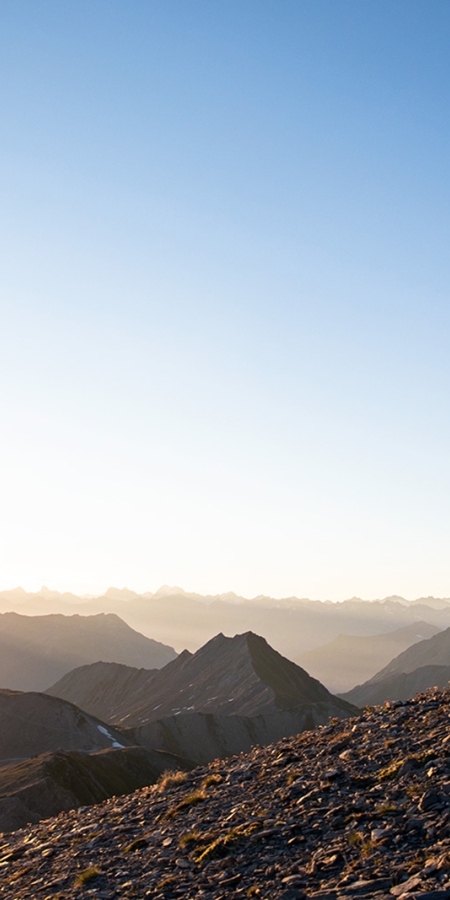 For Patrick Heis, hardly any slope is too steep. The hotelier and chef from Samnaun likes to pedal up mountains on his lightweight bike. «I ride my mountain bike every day. Most of the time it's 1000 meters in altitude. It clears my head and afterwards I'm ready for work in the kitchen.»
High alpine and pleasantly cool

Patrick's favorite tour leads to the Paliner Kopf, where Switzerland borders Austria. Along the border ridge it continues to the Viderjoch. The tour is particularly impressive early in the morning during sunrise. "I love the high alpine landscape and the mountain freshness up here," he says, gazing into the distance. 
Where others take the train, he pedals uphill

The 43-year-old likes to push his physical limits and always rides from the valley floor up the mountain. "If you want, you can also take the cable car up to the Viderjoch," he grins. «This is free for guests and a super flow trail starts at the top. The descent leads over 1200 meters in altitude and was designed by Claudio Caluori.»
Cooking is his second passion
 
Patrick learned his profession in several top kitchens. At the age of 22 he came back to Samnaun and became head chef in his parents' business. For years, he knew nothing but his work until he started having health problems. «I had to change something and started biking. That's how I found my way back into life.»
Biking makes you content

«Biking has made me a more content person and a better host,» says Patrick. He likes to accompany his many regular guests on a bike tour and take them up to his alpine hut. There they roast sausages on the grill and tell each other stories.
The right thing for all bikers

In Samnaun, Patrick appreciates the beautiful nature and the impressive alpine landscape. "And for biking you will find everything you could wish for: short and easy laps, long and technically demanding tours, natural single trails and developed flow trails. 
More about our uphill biker Patrick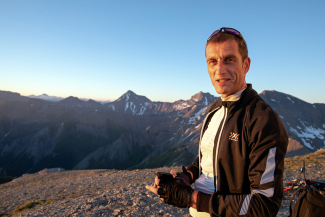 Patrick Heis is hotelier and chef at Hotel Des Alpes. Out of passion. One day his body didn't play along anymore, health problems were the result. Mountain biking helped him out of the difficult situation.
Until he was 35, he knew the mountain bike trails of Samnaun only from hearsay. His life took place in the kitchen, from early in the morning until late at night. "At that time I weighed 125 kilos and I was getting progressively worse," says Patrick Heis. His doctor diagnosed a severe inflammation. He had to pull the emergency brake and give his life a new direction. He bought a mountain bike and went out into the wonderful mountain landscape of Samnaun. "I got to know my homeland anew: the intact nature, the mountain freshness, the beautiful views. And the exercise did my body good; I lost 45 kilos, could breathe freely again and also became more efficient at work."
Twelve hours at work, two hours biking. Every day.
Today, the hotelier and chef is a slim man. He is tall and looks like a typical endurance cyclist. Patrick rides a hardtail bike with carbon rims. His passion is riding uphill, finding the optimal pedaling rhythm and mastering steep ramps. "I need this time for myself to switch off and clear my head." Every day, usually at 2 p.m., he gets on his mountain bike for two hours and climbs one or more mountains. This is after he has already spent seven hours in his kitchen! And after his tour he works another five to six hours. In the season every day.
In the meantime, his guests and suppliers also know that they look for him in vain in the kitchen or at the reception of the Hotel Des Alpes in the early afternoon. He takes all the more time for his guests in the morning and evening. He says that biking has not only made him healthy again, but also more content and sociable. 80 percent of his guests are regulars, they know and appreciate "probably the most inveterate mountain biker in Samnaun".
He also knows no compromises in the kitchen
They especially appreciate it when he accompanies them on a bike tour and takes them to his alpine hut above Pfunds. There he likes to prepare a grilled sausage for them and show them the deer and mouflon that a friend breeds in the surrounding enclosure. Patrick buys some of the deer meat from his friend and processes it in his kitchen. He cooks mainly regional and traditional dishes. It is important to him to use only fresh products and to produce everything himself.
And what does such a die-hard biker actually do in the winter, which is long in Samnaun? "Even in the cold season I do sport every day. I go jogging or get on the exercise bike and at least once a week I ski or snowboard."
Text: Franco Furger
Picture: Filip Zuan