Family adventure on the Alptrider saddle
New attractions on the Alptrider Sattel: The new disc golf course with 9 lanes and the trampolines complement the wooden ball track and nature showcases. The safety equipment for the
Family Climbing and Boulder Park
as well as the
scooter
with wide tyres are now handed out at the Alptrider Sattel near the sports centre.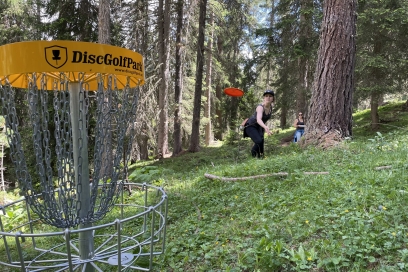 Discgolf is a game with a Frisbee. The aim of disc golf is to hit the target basket with as few throws as possible with the Frisbee from the disc. The course consists of 9 lanes. 
Rental price: CHF 2.00 + CHF 8.00 (deposit)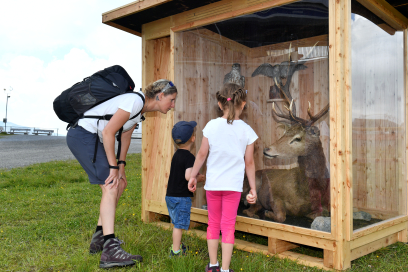 Gravity cart (test run), trampolines, nature showcases, playground and barbecue area (at the Alp Trida climbing park), barbecue sausages can be bought at the sports centre.
Rental prices Sportcenter Alptrider Saddle
| | Adults | Children up to 16 years |
| --- | --- | --- |
| 1 Ride | CHF 8.00 | |
| 1 hour | CHF 18.00 | CHF 15.00 |
| 2 hours | CHF 28.00 | CHF 23.00 |
| 2h-Group rates as of 4 persons | CHF 23.00 | |
| | 1 Ride | 1 hour | 2 hours | 2h-Group rates as of 4 persons |
| --- | --- | --- | --- | --- |
| Adults | CHF 8.00 | CHF 18.00 | CHF 28.00 | CHF 23.00 |
| Children up to 16 years | | CHF 15.00 | CHF 23.00 | |
Climbing Park | Via Ferrata
| | Adults | Children |
| --- | --- | --- |
| Safety equipment | CHF 15.00 | CHF 12.00 |
| Boulder mat | CHF 10.00 | |
| | Safety equipment | Boulder mat |
| --- | --- | --- |
| Adults | CHF 15.00 | CHF 10.00 |
| Children | CHF 12.00 | |
| | Adults | Children |
| --- | --- | --- |
| Frisbee | CHF 2.00 + CHF 8.00 (deposit) | |
| | Frisbee |
| --- | --- |
| Adults | CHF 2.00 + CHF 8.00 (deposit) |
| Children | |