Enjoy the panorama
The most beautiful viewpoints in Samnaun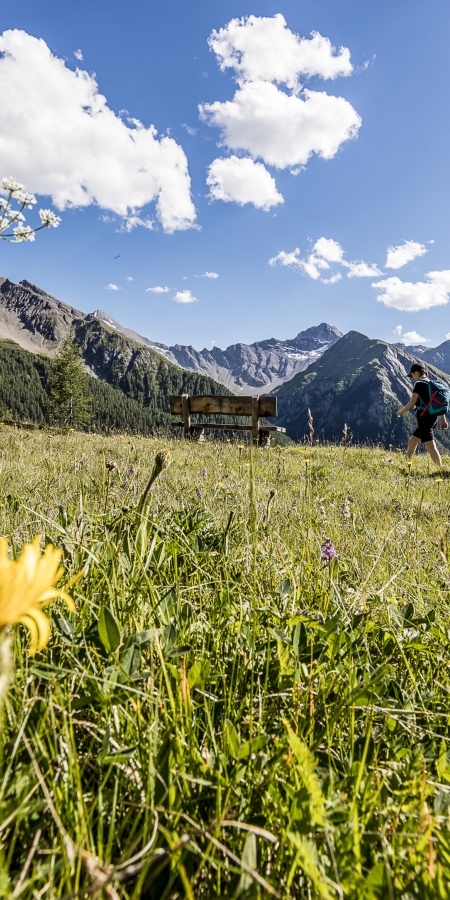 Dreamlike mountain scenery and imposing nature - Samnaun offers you a wide choice of views. Be inspired by the four most beautiful vantage points and enjoy Samnaun's nature on an excursion.
Would you like to enjoy the panorama of the whole Samnaun valley? The Chè d'Mot viewing hill offers you the opportunity to do so. In addition, there are four distinctive cable car masts of the double-decker cable car on the Chè d'Mot.
The Piz Motnair is a lookout mountain high above Samnaun village with a panoramic view on the summit over the Samnaun valley, Zanders valley, Val Sampuoir and Val Maisas. The hike begins leisurely uphill over the forest road through the inner forest to Motta Saltuorn and on to Salantinas, where the view of Samnaun village opens up. Here the single trail begins along the grass-covered mountain flank, steeply towards the summit.
High above Samnaun-Compatsch a beautiful view of the surrounding mountain world and the Zanders valley awaits you, namely from Munt da Chierns. The ascent is along a well maintained forest road to the Tschoccas forest lodge. We continue through the beautiful larch and Swiss stone pine forest towards Piz Urezza, followed by the ascent over flowering alpine meadows to Munt da Chierns.
How about a great view of the Samnaun valley and the Alp Trida? This is exactly what you get at the Piz Munschuns. In about 30 minutes you reach the Piz Munschuns from the Alp Trider Sattel via the path.
By the way: Get your hiking pass and take part in the PIZstürmer-Challenge.