Marco Tumler
From ski racer to youth coach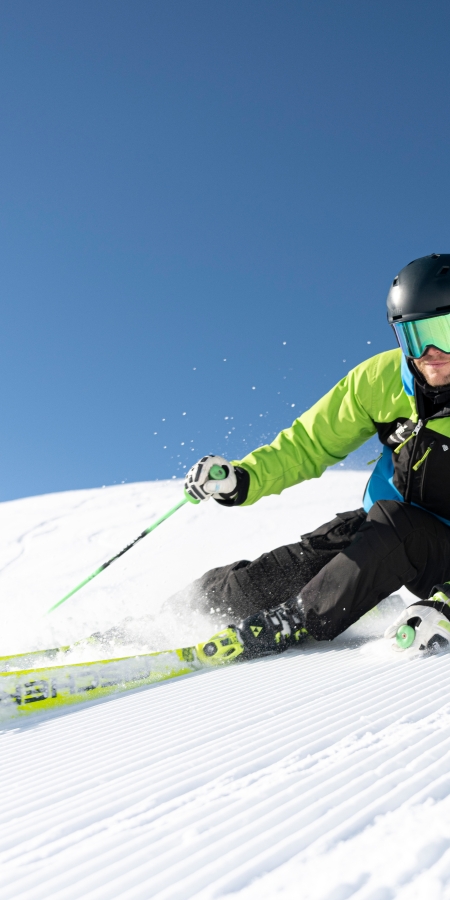 When he carves down the slopes of Samnaun, people love to watch him. Marco Tumler is a formidable skier. He has been at the start of a World Cup race three times. Today he uses his experience as a junior coach and shows the local children why it is so important to stand centrally above the ski.
The Samnaun Ski Club trains three times a week: on Saturdays, on Wednesday afternoons and on Tuesday evenings on the floodlit piste on the Musellalift. Marco Tumler stands at the start of the night piste and explains to his protégés the fastest way through the gates.
The coach also once learned how to find the ideal line on the Musella slope as a little boy. Marco grew up right across the street and spent every free minute at the valley lift. His uncles were ski instructors and when they organised ski school races, little Marco was allowed to start as the lead skier.
Every free minute on the slopes
This is how his career as a ski racer began. Later he graduated from the well-known ski school in Mals and went through one squad level after the other until he was able to compete in three World Cup slaloms in January 2012. However, he was unable to assert himself in the highest racing series. In 2017, he ended his sports career and began training as a professional coach, which he successfully completed a year ago.
Club president with a lot of experience
Now the children who train at the Samnaun Ski Club benefit from his wealth of experience and expertise. "I look very much at the boys and girls learning to always stand centrally above the ski. Because that way they can react if something unexpected happens." This helps not only to be fast, but also to prevent injuries. Centred skiing is therefore essential for everyone, from 5-year-old boys to ambitious hobby skiers to the top athletes in the World Cup.
I make sure that the children stand centrally above the ski.
The talent factory from Samnaun
In addition to his function as a coach, Marco is also president of the Samnaun Ski Club. The club is considered a talent factory. Athletes who learned to ski in Samnaun regularly make it into the World Cup. Martin Hangl, the 1989 Super-G World Champion, is probably the best known. His brother Marco Hangl also made it to the World Cup podium and his niece Célina Hangl was also an established World Cup skier. Many others came close to making the jump to the World Cup. Currently Stephanie Jenal (B squad), Sandro Jenal (B squad) and of course Thomas Tumler (national team) - Marco's younger brother - are in a Swiss-Ski squad.
Five months of powder snow
What explains this amazing talent density in the small community with only about 800 inhabitants? "Skiing is part of life up here and many families are just incredibly keen on skiing," says Marco. "Moreover, we have the opportunity to ski on powder snow slopes from the end of November to the beginning of May".
Skiing is a part of life in Samnaun.
But to make it to the top of the world, it takes more than a beautiful ski resort, the former racer knows. "The environment has to be right and the athletes need the necessary bite and will, which many here probably have". However, the goal of the ski club is not only to produce as many top athletes as possible, but also to convey the joy of skiing to the children, emphasises the club president.
239 kilometres of pistes, 45 cableways
Marco's favourite place in the ski area is the Greitspitz, at 2870 metres the highest point in the Silvretta Arena Samnaun/Ischgl. During his time as a ski racer, he has seen dozens of ski resorts all over the world, but very few would come close to his home area. The numbers alone speak for themselves: 239 kilometres of pistes, 45 modern cable cars, 15 mountain restaurants. "In addition, there is an unbelievable variety and impressive mountain landscapes. Growing up here is a real privilege," says Marco.
Good fitness helps to fully enjoy the ski area.
Popular morning sun from Samnaun
His tip: get up early. Then you can enjoy the morning sun on the Samnaun slopes in peace, even before the people from Ischgl come over. And how do you keep your bearings in this huge ski area? At the beginning, you can almost be overwhelmed by the many chairlifts. That's why Marco advises you to remember the important junctions: Alp Trida, Idalp and Höllkar. You almost always see one of these places when you get off a chairlift. It is also important not to underestimate the distances. "A good level of fitness helps to fully enjoy the area," says the ski trainer.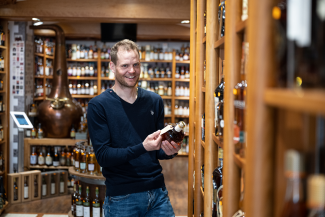 Mr over 1000 varieties of whisky
When Marco is not skiing, he works in his parents' business. With more than 1000 whisky varieties, the shop is a popular address for every single malt fan. But blends, bourbons and numerous rarities can also be found. The selection of grappa, gin and rum is also impressive. The shop, which also stocks cosmetics and perfumes, is part of Zollfrei Paradies Samnaun. The shop manager is now Julian Tumler, the youngest of the three brothers.
Customs regulations in the EU and Switzerland are different.
Marco works in sales two to three days a week. He is often asked what happens if you are caught at customs with more bottles than allowed. "Of course you pay a hefty fine! So it's better to declare everything correctly, because many products are still cheaper that way. And it is important to know that different customs regulations apply in the EU and Switzerland.
Fingers crossed for Thomi Tumler
Marco started helping out in the family business right after graduating from high school. Here he could work flexibly and concentrate on skiing at the same time. For many years he skied together with his brother Thomas. They trained together, pushed each other and always wanted to be faster than the other. "We had a healthy rivalry," Marco remembers. Even today, the brothers maintain a close relationship. "We regularly exchange ideas about skiing and life. I am an important confidant for Thomi".
We had a healthy rivalry between brothers.
Now Marco hopes that his brother will be able to return to his old successes after a long-lasting disc injury. Thomas Tumler has already stood on a World Cup podium twice. He once laid the foundation for this on the Musella slope. There, where Marco Tumler cheers on the ski cracks of tomorrow every Tuesday evening: "Push, push, push".
Text: Franco Furger
Bilder: © Mayk Wendt